Hi guys!
It's been a long time since I've updated my blog. I miss you all!
Things have been busy over here, recently. Honestly, I don't really know where the time goes. The time since my last post seems like a blur. It's only by looking back at my calendar and the pictures that I took that I can remind myself of as much that happened as possible.
Shortly after the release of The Sheriff's Little Girl, in the end of September, I headed out of town for a few days. I was doing an extended session with someone who is also a great friend, so it's a lovely way to spend some time. The day after I got back, I got together with a new friend. She had emailed me after reading my blog and lived not far from me, so we met up and hung out. We went to the mall together and walked around, chatting about video games, cats, and of course, spanking. It was a really fun afternoon, and it was great to make a new connection through This Thing We Do.
That night, Paul and I had some much needed play time: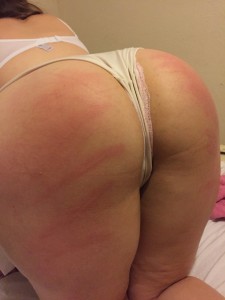 The next day, Paul and I drove down to Orange County so that he could pick up the car that he bought. Paul loves cars, and he spent a long time deliberating about what sort to get here in America. I'm quite pleased with the one that he chose: I think it suits him quite well!
I haven't had a chance to get spanked in or over it yet, but I'm looking forward to it.
That night, we met up with Spankcake in order to help Erica Scott's partner, John, surprise her for her birthday. We went to an amazing Japanese restaurant in the Hollywood Hills with an awesome view. We had champagne and Spankcake and I shared sushi (as usual for us!). Most importantly, we got to celebrate Erica, who we love so much. I'm not going to go into too much detail about the night, since this post is basically a clips show of the past six weeks, but you can read Erica's account of it here. I will say that it was a truly amazing night, and some of the most fun I've had in a long time. John's love and affection for Erica and his pleasure at seeing her so happy is something that always makes me smile when I recall it.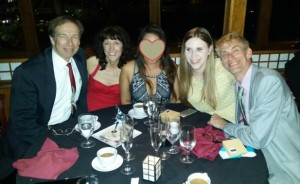 The next day we had the adorable Linny Lace over for a shoot! In case you aren't familiar with Linny, she's a pretty new spanking model based in Los Angeles. She did her first spanking shoot with Paul and I for Northern last spring. She's super cute and very sweet, and I was happy to have her back for another shoot. If you use tumblr, you can follow her there.
This day, we were experimenting with producing content for someone else: they had seen me posting about custom videos available and had emailed me asking if I would film content for their site. We gave it a go. The plan was to shoot half the day for this other site and half the day for NS. It wound up being a *very* long day, but Linny was such a trooper. Because we had commitments to the other site, we only ended up being able to do one video for us, but it was a very fun one: our Halloween special.
This film was all my idea. Paul isn't particularly enthusiastic about Halloween, but I definitely am. It's one of my favorite holidays because I love dressing up. I kind of miss being young enough to be able to go door to door trick-or-treating, to be perfectly honest. So, I wrote a video about Linny and I having done that. In it, we're American girls living in England, where the trick-or-treating is not so strong (and you get people like Paul and John Osborne being grumps about Halloween). I imagined that we'd want to participate in some of the mischief night aspects of the holiday and that our neighbors, and the local authorities, would not be so keen on that idea.
The video started with us sitting on the rug and sorting out our candy from our very full treat bags. This was a very thinly veiled excuse for us to have to buy two treat bags worth of Halloween candy, I'll admit it, but it was all in the name of verisimilitude! Paul, our guardian, then interrupted us, having just gotten off the phone with the police about our criminal mischief involving egging houses and wrapping trees in toilet paper (admittedly, that's a worse offense in the UK than in Southern California when you think about how rain works). Of course, we had to be severely punished, and we were both spanked and then caned.
We got to wear Halloween costumes in this, of course: Linny brought a really amazing Red Riding Hood costume that she made herself, and I wore my Hello Kitty costume from last year:
The next few days were full of sessions, working on my current Work in Progress, admin stuff and my butt wearing these shorts: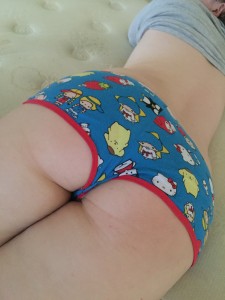 That Saturday, we did a shoot with Chelsea Pfieffer. Half of it was for Good Spanking and half of it was for my clips store, Kitchen Sink Spanking.
Shooting for two sites in one day is long, but we got a lot of good stuff done! The scenes that we did for KSS probably won't be released for a while, but you can see a couple pictures anyway:
And here are a couple from Good Spanking (these videos are currently live on the site):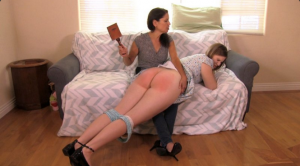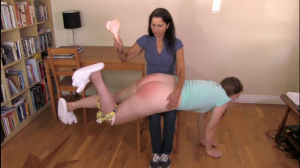 Do you like my bunny slippers? I'm kind of in love with them. They were a gift from someone awesome off my Amazon Wishlist. I kinda wish I could wear them every day.
We took that Sunday off, but on Monday, it was time to shoot again! This time, we shot with Cupcake SinClair. I had never met Cupcake, but I realized as soon as I met her that she was seriously sweet: the name suits! She's so spunky and full of energy, and she was such a pleasure to work with. We're definitely going to have her back for a longer shoot in the future. We did scenes for both Northern Spanking and for her site (linked earlier in this paragraph). It'll be a little while before we get to introduce her on the site, but I'm excited for it, because the videos we did are totally great.
We had a lot of behind the scenes fun and giggles:
And here's a picture of Paul and I being cute together off camera: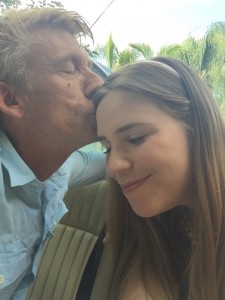 I had probably too much fun spanking her. This girl has a serious tolerance, so I got to use my meanest hairbrush, the one I try to avoid getting spanked with as much as possible!
The day after that, we drove down to Orange County to meet up with one of the ladies I've been friends with in the spanking community for the longest: Lily Starr. She was in town to do sessions, and I jumped at the chance to do a shoot with her! We did scenes for Lily Starr Spanking, Northern Spanking and Kitchen Sink Spanking.
One of the scenes that we did for Lily's site was particularly fun: we got to wear Halloween costumes again! I had hoped that we could both dress up as slutty bears, as I had ordered stuff for a slutty polar bear costume to wear later in the month and Lily had a slutty panda outfit. However, the postal service failed me and my box arrived a day too late. Fortunately, Lily had some cute slutty Disney girl outfits that we wore instead.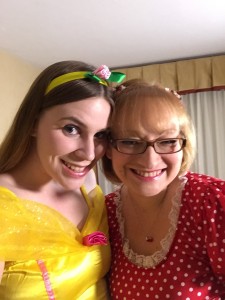 In the scene, Lily was my friend (very much like in real life, in fact) and we had a Halloween party at my house. We spiked the punch and things got a bit out of control. Except we were playing as teens, so it was quite a big deal, and Paul (who played my dad) was super not thrilled to have a house full of drunken teenagers. I knew I was in for a spanking, but I didn't know he was also going to punish my friend. We both got it very hard, too.
This film is special because it's actually the first time that Lily and I have ever been spanked together on camera, despite having been filming together since 2011. We finally got to fix that!
We also did a really cute scene where Lily was my strict Aunt, who punished me for disobedience and bad language (and I got to wear my bunny slippers again):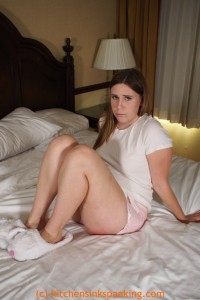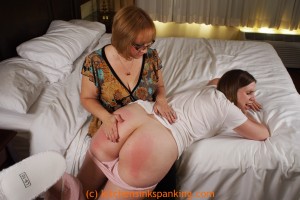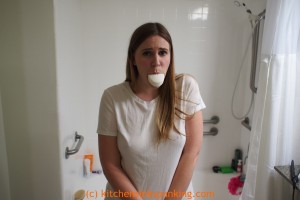 And we did some cute scenes for Northern with Lily getting spanked by Paul. I love watching her get spanked because she has such sweet and genuine reactions.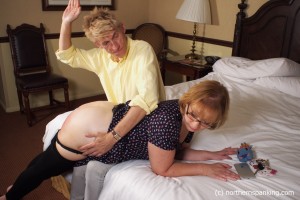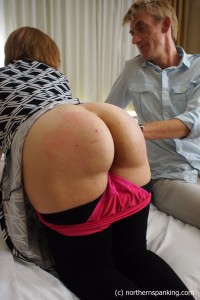 That night, when we were finished shooting, we took some much needed alone time and snuck off to Disneyland, since we were pretty close by. We got dinner, watched the fireworks and went on a few rides. It was something we so needed! Even though we work together, it gets stressful to not get to also spend some down time together, and it was the refreshment that I needed, since there was a lot more busyness coming right up.
Despite my best efforts at brevity, I'm not going to be able to fit everything that's happened into one post like I originally planned. Hopefully it won't be another six weeks before I post again!
Before I go for the night, I have a couple things to add:
First, if you have a tumblr blog and you want to share the pictures featured in this post, that's cool. Here's what you need to do if you're going to do that:
1) Put www.alexinspankingland.com as the source on the picture.
2) Not use them to advertise for something else, claim them as your own work/pictures of you or add a fictional story in which you rename me or make up a background for the picture (I'm sharing my life with you and don't feel comfortable with it being used for these things, so please respect that).
3) Ideally, tag me @alexinspankingland so I can reblog your post. 🙂
The other thing:
Big thank you to the three people who left me blog comments while I was away, and to everyone who kept visiting this blog, keeping the traffic surprisingly high for a place that wasn't being updated. I really appreciate you guys. I would *love* to get comments more often, even just saying hi. Engaging back and forth is so much more fun than just rambling about myself into a void. 🙂 Part of the reason that I use tumblr more often these days is because I get so much feedback and participation from people (admittedly some of it is totally dick, but most is great). I guess the real reason is because it takes a few minutes to add a post there where as this one took me almost two hours and hours are pretty hard to come by these days. But the fact that I get to interact with people there is really rewarding.