Hi friends!
I bet you're pretty surprised to see me updating my blog, aren't you? It's been…well, over a year. Something like 18 months, I guess. Blogging is something that I've had an increasing amount of difficulty finding time to do, but I miss it, and I'd like to start putting in the effort to make it happen again. It's a bit odd, though. Since I stopped blogging very often several years ago, I kind of feel like you guys don't know me that well anymore. Hopefully, you're still following me on Twitter and Tumblr, although Tumblr has become kind of a lost cause these days, and maybe you follow me on Instagram when my account isn't being deleted. But I'd like to catch up with you all here, in this space that belongs entirely to me.
To start things off, I went through and updated all my pages. There's a new travel schedule, new answers and some new questions in the FAQ, new credits on my Resume/links list, and some updated information about booking a session with me. Please don't think that just because sometimes life gets out of control with regards to my ability to blog that I'm not available for sessions, custom videos, or shoots anymore: I am still accepting new people to play with and love working on new artistic projects!
I obviously can't tell you every single thing that happened in the past 18 months, but I'm just going to give you some bullet points.
– Working on Northern Spanking has become a huge part of my life. I love that site so much, and I'm passionately dedicated to making the best possible spanking content, as well as being the kind of producer that I would ideally want to work with as a model. I do not like to brag, but I'm very proud of the work that we've done, and I think that it's only getting better. Here are a few favorite scenes I've worked on recently: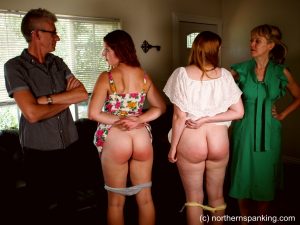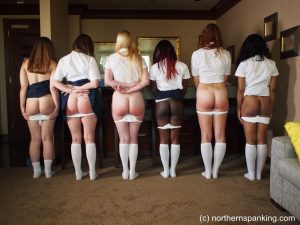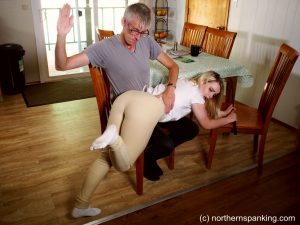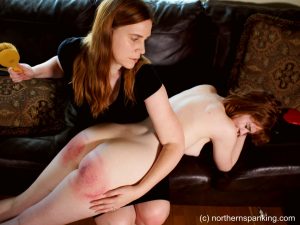 – In fact, at the end of last year, we launched a completely redesigned version of the website, which is much more technologically advanced as well as more visually pleasing than the old site. You can save favorites, search tags, stream video in addition to downloading it, create a queue, see your recently watched films…and do all of it from mobile, as well. Let me tell you, being able to use my own website from my phone has greatly improved the quality of my life. Anyway, if you've never joined the site before, you probably should give it a try, because I love it and I think it's amazing.
– Also last year, we launched a new brand: Spanked and Diapered. I don't know if I've ever really blogged about my exploration of ABDL, but it began when I first got to know Adriana. It's something that had always been a low-key interest of mine. I can remember early "startles" the same way that I can about spanking, but the interest was more of a curiosity and not a pressing need the way that my spanking obsession was. So, it went on the backburner, because my spanking interest was very powerful and it took up all my fantasy time.
When Adriana and I first started playing together and she helped me to explore that interest, it immediately worked for me. I don't identify as an ABDL. I'm very careful about this, because I know that there's a huge difference between someone who likes spanking but can get by fine without it and a dyed-in-the-wool spanko, and I've been known to be a little bit touchy about the language there. So, it's important for me to be respectful. That said, a lot of ABDLs love to include spanking in their play, the same way that I love to include ageplay, babyspace, regression, and of course, diapers in some of mine.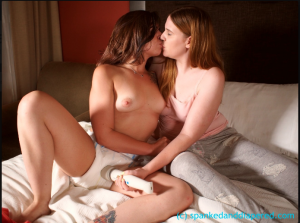 Anyway, we decided to create a site dedicated to this intersection of my fetish and my kink. Last year, we launched a Clips Store featuring a bunch of my favorite models doing some very hot stuff. Now, we're working on getting a membership site up and running, which I'll be telling you all about very soon. It's so exciting to me. This is the first time that I've seen something go from an idea to an actual, full-fledged website, and it's delightful.
– My cat, Gizmo, who I often called "the baby monster" on this site back when I gave my cats scene names as if that was ever going to matter, passed away just over a year ago. I'm honestly still incredibly sad. He was an old man, and even older for his breed, but he had spent so much of my life by my side and he was one of the sweetest animals that I ever knew. I honestly think I'll be sad about it forever.
After he passed away, my other cat, Senor ("the punk") got very depressed and anxious. He's like me– prone to a lot of big emotions. Everyone recommended that we get another cat, and it seemed like it would be easier to introduce him to a kitten, so my new little boy, FBI Special Agent Dale Cooper the Cat (aka Cooper most of the time) came into our lives. Tomorrow will be the one year anniversary of us getting Coop.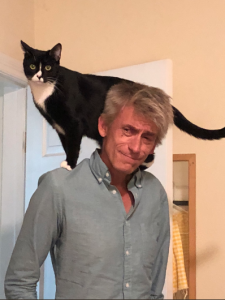 Honestly, it took Senor a long time to warm up to him. Cooper has A LOT of energy, and it seemed like the day that we got the kitten was the day that Senor decided that he was a senior cat! But now, I can safely say that they love each other. They spend a lot of time play wrestling, but also will sleep next to each other and lick each other's fur. Heckin' cute.
– I did A LOT of traveling. Honestly, the main reason I never blogged is because I was basically never home, and I was often keeping myself so busy that I was going to bed as soon as I got to my hotel/airbnb/whatever. I'm trying to do a little bit less of that this year, but then I look at my travel schedule and I see that that's probably unlikely. I do, however, hope to manage it a little bit better.
-Throughout the course of my blogging, I've referred back to several different health problems that were constantly popping up throughout my life. If I remember right, I've generally been pretty vague about them, but I have severe allergies, migraines, sinus and respiratory problems, some skin problems, digestive issues…and a few other things. Last year, I got diagnosed with a condition called Mast Cell Activation Syndrome. It turns out that all the various problems that I've been trying to treat separately all had one root cause. I'm taking medications and supplements, and I'm eating a kind of odd seeming restricted diet (for example, I can never eat chocolate again) but I'm doing much better. My energy levels are better, and as a general rule, the amount of days where I don't feel well has gotten much lower.
I say "as a general rule" because I was sick for approximately all of the winter in one way or another. Extremes in temperature make my condition flare, and I was on the east coast when it was freezing and snowing in November and had a ton of symptoms that just wouldn't quit. I was doing better for a couple of weeks and then I got sick right before Christmas…and I just stayed sick. I had a cold that began bronchitis that became a sinus infection, and that flared up the respiratory side of my MCAS…
Anyway, I'm finally feeling better now. I guess what I'm trying to say is that my new treatment plan isn't a cure: I still have issues sometimes. But as a general rule, the number of days per year where I feel well has only been going up, and I'd say that most of the time, I feel great. I'm much much much better than I was. Plus, I've been losing a lot of weight since I got healthier, which has been a great bonus.
– My Top space has continued to develop. Over the past couple of years, my interest in Topping has gone from just being an interest into a full-fledged core part of my kink play. Sometimes, I'll go to events and only end up playing as a Top and I'll leave feeling happy and content. My needs as a bottom as still extremely core to me, of course, but so many of my fantasies these days are about things like being a teacher or professor and spanking naughty students, for example.
– In less uplifting news, my (real, biological) mom was diagnosed with cancer a couple months ago and has been inpatient in the hospital since early December. I got to visit her twice so far– difficult because she's in New York and I'm in California, and she seems to be doing pretty well, but it's just been a stressful time. Add on top of that the fact that a very important person to me here in LA who is only 25 also got a cancer diagnosis in May and is still undergoing treatment now…and it's been a tough year. It gets very heavy to deal with sometimes, knowing that two people that I love are on opposite sides of the country and dealing with different forms of the same terrible illness. I do my best to be supportive of both of them while also taking care of myself.
Gifts of Airline and Hotel gift cards REALLY help me right now, by the way. They allow me to be able to travel and see my mom while she's recovering!
-At the end of the day, I'm still just a naughty girl who loves spanking and enjoys participating in it whenever possible! The last year had challenges, for sure, but it also had great times: Paul and I took a long road trip to the PNW with just the two of us and had a wonderful time together, and I got a lot of chances to visit my favorite friends. There are many of those coming up soon, too. I'm heading to Denver soon, to shoot for Real Spankings and visit friends, and at the end of next month I'll be headed to Vegas to meet up with a ton of my favorite humans.
– I have two new ways that you can get naughty business from me: I have an Only Fans now, which I update every single day with exclusive selfies, photosets, and video. It's got a lot of my most intimate content on it. I also now have a Many Vids store where you can see me exploring various different fetishes! So far, that store has less emphasis on spanking, but it's got a lot of sexy stuff.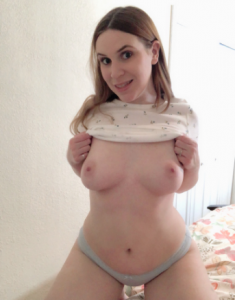 Ok, friends. This post has been kind of a weird mix of exciting stuff, work stuff, very personal stuff, and sad things. But I'm glad to be back here, and I will do my very best to post again soon.