Woah, I haven't been around very much recently. Life has been busy. And by busy, I mean way more busy than usual. Positively hectic for the past couple of weeks!
I went to Houston for the Lone Star Spanking Party, where I had a lot of wild hijinks and adventures that I'll tell you about… soon!
Then I was home for about two short weeks, during which time I had to prepare for another very big and very exciting trip. In fact, I'm writing this post while waiting for my devices to charge and sync so I can have stuff to do on the plane, then I'm gonna hop in the shower quickly so I'm not truly horrible to sit next to, and then I'll be off!
I'm heading to Texas again, to visit with my friends James and Korey Johnson tonight, then go to the Texas All State Spanking Party tomorrow for the weekend. I LOVE TASSP. It's gonna be a great group of people there, and I feel so safe and relaxed around them, like I can really be myself without any stress. Besides kicking back and having fun, I'll be doing some shooting and lots of sessions (there's still time if you're in DFW and want to book me last minute, just send an email to alexinspankingland@gmail.com). Plus, it's my "partyversary": TASSP was the first party that I ever attended, in 2012! This will be my fourth party! So, it's very dear to my heart. Plus, I get to participate in a big, formal, school girl roleplay, which means that I'm taking a step closer to fulfilling my biggest unfulfilled fantasy. *dreamy eyes*
From there, I'm getting on a plane and heading to London! I'm visiting Paul there, and spending some time with Pandora Blake and a few other wonderful people. I can't believe it's been over two years since I last visited the UK. It will be so nice to be there in the summer time, too: I've only ever visited in February and March in the past. This time it won't be cold! I mean, it will be cold compared to what I'm acclimatized to for the summer, but I think that's acceptable. If I wear a jacket all summer, no one will judge me, right?
I spend about three weeks in the UK, and then I fly to Chicago for the Crimson Moon Party! THEN I go back to LA, where my cats will probably hate me for abandoning them with Rafa for so long. I'm going to miss those guys… and all my friends and partners here in LA. This will be the only time I've ever gone on a trip this long where I left a place that I felt truly good in. Other times, when I did long travels like this, I was trying to give myself a get-away from a place that I didn't really want to be. So, that will be a bit different.
I'm going to try to post shorter things more frequently here, and see how that works for me. I think part of the reason that I never make time to blog these days is because doing a long post is such a huge time commitment for me: it takes me hours sometimes! So popping in to tell a quick story or two might be best for a while, until my travels are over, at least.
There are so many people that I can't wait to see during the next couple of weeks, but of course Paul is at the top of that list. It's been over five weeks since I said goodbye to him, and I'm so excited to know that in a few days I'll be in his arms. No post TASSP drop for me! 😀
Oh, one more thing! Yesterday, my story, "Daddy's Little Angela" was released as a stand alone, so if you didn't buy the Little Haven collection (or if you did but REALLY want to support my writing) I highly recommend picking that up! I personally think it's super hot, and that most people who are fond of ageplay will enjoy it. It centers around a girl who ageplays as a middle (much like what I do in real life) but, when she gets in trouble for teasing a sensitive girl in her community who plays at a much younger age, her daddy punishes her severely, and in very embarrassing ways!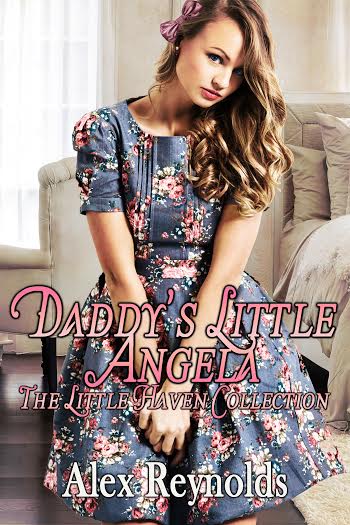 This book is less than $4. It's only available on kindle, but you don't have to have a kindle to read kindle books: you can download the free kindle app for either your computer or your smart phone. There's a link on the book's page on amazon with instructions on how to do this. I'm so grateful to everyone who supports my writing ventures! I have a new book coming up soon, too. I just need to find the time to put the finishing touches on it: perhaps when I'm on the plane!
Ok, I have to get in the shower now or else I'll be running late, and we all know what happens to people like me when running late! (The answer is spankings, just to be clear!)