For the first time, I'm participating in the popular Saturday Spankings bloghop. For those of you who aren't familiar, this is a blog hop that allows authors of spanking fiction to share a tiny snippet from one their books: eight sentences or fewer! It turns out, that's a very small amount of space, but I hope I picked a nice, teasing preview for you.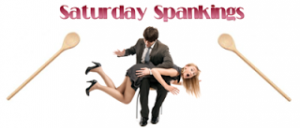 Since The Sheriff's Little Girl just came out yesterday, it seems like the perfect time to peek in on Peter and Julie. In this scene, Julie has gotten herself in trouble while messing around in the kitchen:
"Can't I have my panties on at first like last time you punished me?"

Peter gave her a firm smack on her now bare bottom.

"Julie, you don't get to tell me how I punish you. You don't get to decide what rules are fair and which ones aren't. The rules are in place to protect you, because you're a little girl who needs to be taken care of. And if I say that you can't climb on the kitchen counters, then you can't climb on the kitchen counters. If I say you're getting a bare bottom spanking, then you're getting a bare bottom spanking. Is that clear to you, princess?"
Want to know more?
After twenty-four-year-old Julie catches her boyfriend selling drugs out of a rehab clinic and he threatens to hurt her if she tells anyone about it, the world suddenly seems like a much harsher, more dangerous place. When she shows up at Sheriff Peter Mitchell's office and explains the danger she's in, it doesn't take him long to decide that she needs to come home with him so he can watch over her while his men set up a sting operation to catch the man who threatened her.
Peter is more than ready to protect Julie from anyone who might try to harm her, but he is far less ready for just how badly the lazy, spoiled girl is in need of a firm hand applied to her bare bottom. Yet when he takes matters into his own hands and gives her the first spanking of her life, he finds that he wants nothing more than to hold her in his lap and comfort her afterwards.
Nobody has ever made Julie feel secure and loved the way Peter does, and soon she's calling him daddy as he dresses her, gives her baths, puts her to bed, and makes sure she's not scared of the dark. Peter will not put up with naughtiness from his little girl, and when she misbehaves his punishments leave her bottom burning and her cheeks blushing red, yet when he takes her in his arms and shows her how a man should love a woman her sore backside is quickly forgotten. But the stress of the ongoing investigation isn't quite so easy to forget. Can Julie learn to trust her daddy to keep her safe no matter what?
Publisher's Note: The Sheriff's Little Girl is an erotic romance novel that contains spankings, sexual scenes, age play, anal play, and more. If such material offends you, please don't buy this book.
You can get my newest release on Amazon!
Check out the rest of the blog hop participants!
I hope you're all having a great weekend!