I've been working on a project since January: my second "full length" spanking novel. It was so exciting to share my first book, The Doctor's Little Girl, with everyone. I was shocked and excited with how successful it was, making it's way into the top ten best sellers in the BDSM Erotica category on Amazon. I started working on this book shortly after that one was released. It got put on the back burner for a while so I could write Daddy's Little Angela, my contribution to the Little Haven Collection.
Now, I'm finally ready to present you my most recent creation: The Sheriff's Little Girl.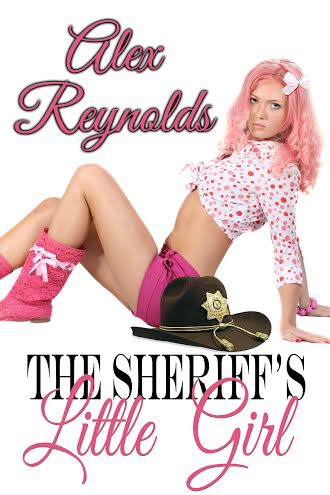 As usual, it's an ageplay story. I'm really proud of this one: it's a mixture of sweet, care-taking ageplay, sexual scenes, stern punishments and the excitement and drama of real danger. Here's what it's about:
After twenty-four-year-old Julie catches her boyfriend selling drugs out of a rehab clinic and he threatens to hurt her if she tells anyone about it, the world suddenly seems like a much harsher, more dangerous place. When she shows up at Sheriff Peter Mitchell's office and explains the danger she's in, it doesn't take him long to decide that she needs to come home with him so he can watch over her while his men set up a sting operation to catch the man who threatened her.
Peter is more than ready to protect Julie from anyone who might try to harm her, but he is far less ready for just how badly the lazy, spoiled girl is in need of a firm hand applied to her bare bottom. Yet when he takes matters into his own hands and gives her the first spanking of her life, he finds that he wants nothing more than to hold her in his lap and comfort her afterwards.
Nobody has ever made Julie feel secure and loved the way Peter does, and soon she's calling him daddy as he dresses her, gives her baths, puts her to bed, and makes sure she's not scared of the dark. Peter will not put up with naughtiness from his little girl, and when she misbehaves his punishments leave her bottom burning and her cheeks blushing red, yet when he takes her in his arms and shows her how a man should love a woman her sore backside is quickly forgotten. But the stress of the ongoing investigation isn't quite so easy to forget. Can Julie learn to trust her daddy to keep her safe no matter what?
Want to know a little more? Here's a peek inside:
Julie tried to catch her breath and regain a little composure for a moment, when she felt his hands on her waistband.

"Oh, no, daddy!" she wailed.

"Oh, yes, kitten. Naughty little girls get bare bottom spankings. And you were a very naughty little girl, weren't you?"

Julie crinkled her nose. "Yes, daddy," she admitted.

"You should have known better, isn't that right?"

She sighed. "Yes, but…"

"No buts," her stern daddy told her. "No arguing."

With that, he yanked her pajamas down to her knees. She wasn't wearing any panties underneath them, and she felt so exposed. It was worse than having her skirt flipped up. One moment, the protecting material had been there, making the spanking hurt less and protecting her modesty. Now, it was gone. Julie wasn't sure why she was still worried about that, but she was. In this context, it embarrassed her to know that he could see her bare bottom, and probably her little pussy from behind, especially when she wiggled.

Peter landed another smack on Julie's upturned bottom and this time she let out a much louder yelp. It was undeniable that a bare bottom spanking hurt more. Each hard spank stung and bit, and she found herself unable to lie still.

When Peter leaned her forward to punish the undersides of her bottom, Julie started to kick her feet. It was the most tender area, and each smack there created a bright white heat that radiated throughout her body.
I'm so excited to share this book with you. I hope you'll give it a read, and if you do, be sure to leave a review for me on Amazon.
If you've missed my other books, you can grab them here:
The Doctor's Little Girl
Little Haven
Daddy's Little Angela