Look at me, once again blogging! Surely this can't be a result of a New Year's Resolution, right? Just a coincidence? Of course.
I meant to write this post before the year turned, but as things worked out, I was actually away over New Year's and it was pretty spectacular. I took one of my very rare non-working trips and got to hang out with some very special friends and get close to some new ones. But there's time to talk about that in later posts (I know you don't believe me, but I'll prove it to you!)
For now, I want to talk about my ten favorite video scenes that I did in 2016. I haven't blogged much at all this past year, so you haven't necessarily heard about my shooting experiences. I decided that the criteria that I'd use would be scenes that were released in 2016, and that I'd limit myself to one scene per site, just to be fair and talk about a variety of experiences.
So, off we go!
1) Alex Reynolds: Dormitory Discipline, from Triple A Spanking.
So, this first scene that I've selected was very much not filmed in 2016. In fact, it's from early 2013, and it might be the oldest scene of me that hadn't been released yet.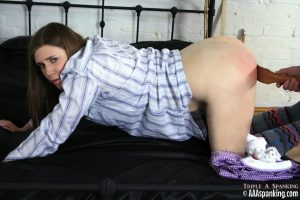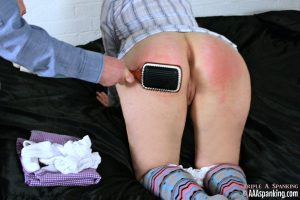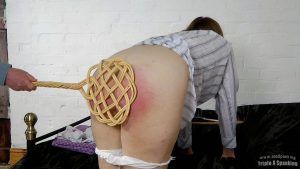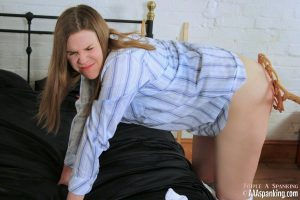 We filmed this scene the first time that I shot for Triple A, and the first time that I met John. Three years doesn't seem like a good enough description of how long ago this feels. I remember this shoot very clearly because it was the second time that I ever met Paul: we shot for Northern Spanking (which I was very excited to be hired for as a model) for a first day, and then for Triple A the second.
This was during my second trip to the UK ever, and my first time going there since becoming a spanking model. This was in the time before ATVOD, and I had a very busy trip traveling around the UK (and visiting Holland) to shoot for a huge variety of sites. This tour was exhausting and it happened during a very uncertain time in my life, but it was also a wonderful time, because it was during this trip that Paul and I first got to know each other and fell in love. So, I was very excited to see something else from this set of memories resurface!
The scene itself is very fun, and includes my bottom getting very red indeed. It was the first time I was ever spanked with a carpet beater, and I still remember the unique way that it felt. It's not heavy at all, but has a spread out sort of sting. Unusual.
Anyway, I'm willing to guess that it's fun for you guys to see me when I was younger, as well, even if it doesn't bring up all the same nostalgia!
2) Alex Spanks Tai from Clare Spanks Men
My second scene I've picked as a standout for me this year was my first time shooting for Clare Spanks Men. I was partnered with Tai Crimson, who is someone I had known over the internet for a little while and was really looking forward to meeting. Tai is a trans girl and she was playing a male character in this scene.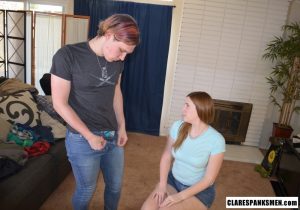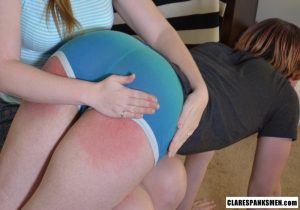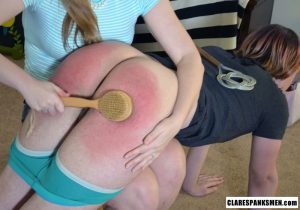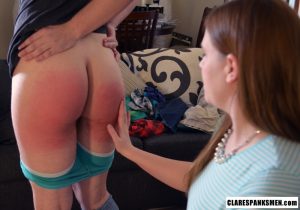 I loved shooting this scene because this shoot was one where I really felt that I embraced my authority as a Top. Tai has a very high tolerance, so I was able to really go to town with the spanking and got to use some very mean implements. And look at her butt! A+++++
I'm very glad I got the chance to spank her.
This scene was fun: it was based on the idea that Tai and I had become step siblings because our moms had gotten married (a small detail that I appreciated, as it bucked the traditional hetero norms we see a lot in spanking porn, especially since no one treated it in an "OH MY GOD, LESBIANISM" kind of way) and I had taken it upon myself to get Tai to stop being so darn lazy and irresponsible. So very hard spankings were in order!
Honestly, if I had known half the things I know about Tai now then, I would have been a lot crueler. >:)
3) Providing Inspiration from Good Spanking
I picked this scene as a favorite of this year because it fell under the heading of "just a little too real!" The plot? I'm a writer who has a manuscript that she needs to finish, but all she's doing is screwing around and playing video games. I don't think that Chelsea (who runs Good Spanking) knew that I even have written spanking novels in the past when she came up with this scene idea, and she definitely didn't know that it has been over a year since I finished one…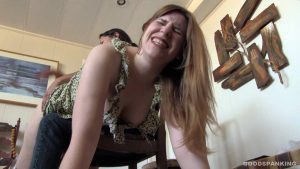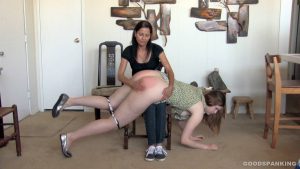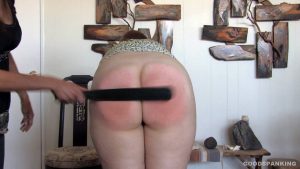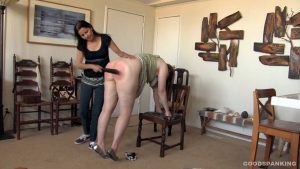 When shooting this scene, I just thought it was funny and a bit uncanny that she came up with a scenario that was so close to my real life. I'm not as naughty as my character is, of course (I'm not writing because I'm traveling for sessions so often and working on Northern and other such projects most of the time instead of playing video games, and the character in the video had been paid in advance, which I am glad to say I was not, haha!) but still. I hope to get back on track with that, as well, in the New Year. It's just a struggle, since there are so few hours in the day and so many things to do.
Well, in addition to my very real contrition, you get to enjoy my *very expressive spanking face* and see my bottom get nicely reddened. So we all win.
4) The Rematch from Real Spankings
(To be clear, this isn't the real title of this video. I just don't know what the real title actually is. If someone tells me, I'll update it to be accurate. You can find this video pretty easily by selecting me as a model if you're inside the members area of RS, though!)
So, this scene requires a little bit more backstory. A couple years ago, I was shooting for Real Spankings like I sometimes do. Whenever I do a shoot with RS, I really like to push myself to my limits in terms of pain tolerance. I really like and trust everyone at RS, and I particularly like to get spanked by Michael Masterson. Not "like" in a "oh, this feels nice" kind of way, but like in a "I feel safe to stop worrying about things and really delve into an intense scene and let that be immersive for me" kind of way.
So, when on this shoot a couple years ago, Michael told me that I could decide what we did for the last scene, I told him what I honestly wanted, instead of suggesting something light and playful. I wanted a really hard, no warm up spanking with a Vermont Country Store Bath Brush. I know, no sense of self preservation. The parameters of this scene were discussed, because this is obviously something very intense. In the rare situations where I feel comfortable to play this way, I like to be pushed to cry, so I decided that I would want to be spanked until I cried, and then "quite a while" after that. I came up with a safety signal, in case it went on too long and I truly couldn't handle it. Then we did it.
I didn't end up crying during that scene (sometimes, there's just too much adrenaline for tears) and I didn't use my safety signal. Michael decided to wrap the scene up because it had been a long day and his arm was tired. I'm not saying this in a bratty way: now that I Top a lot I know how freaking exhausting giving out spankings all day is. Sometimes my arm just can't take it. And apparently it happens to even the very best of us. But holy wow, that was a hard spanking. I was literally sore for days afterwards. I wriggled and fought and had to be pinned down. It was not my most dignified moment.
Anyway, fast forward to July. I'm in Denver with Princess Kelley, Maddy Marks and Harley Havik, so we can shoot for Real Spankings. I'm happy to be back there, since it's been a while, and I'm having a great time getting spanked with and by my friends. Plus, we got pizza for lunch and I got to pet Michael's dog, so really, an all around awesome day.
We're doing a lot of scenes since there are three bottoms on set, but it comes time for me to do my final scene in which I'm getting spanked that day, and once again, Mike lets me choose. And so, I do what any sane person would do in this situation: I suggest that we should have a rematch and do another scene with the exact same set of parameters as before. This time, to make things more interesting, Maddy and Harley were in the scene watching me be spanked (something which always makes my headspace more intense).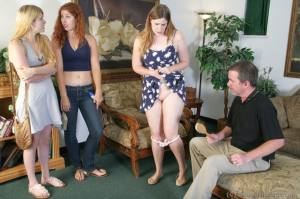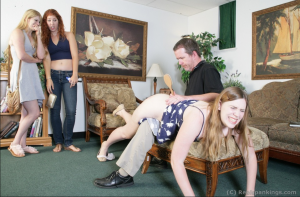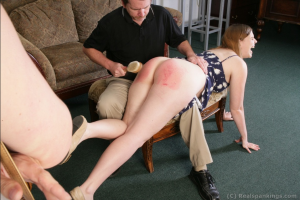 I was already pretty sore from the scenes we had done earlier (including one that I'll be discussing later) but holy wow, this spanking hurt. Do you ever get an idea which seems like a really wonderful idea in your head, and  then as soon as it becomes a reality, suddenly seems like it was really not clever? This is a problem that I have awfully frequently, although it usually involves listening to schemes from friends who are terrible influences on my good behavior (you know who you are). That kind of happened here, although not exactly. I got the level of intensity I very much wanted, I just got shocked by the reminder of how real and intense that is.
I was very in character as a teen girl with an attitude problem as this scene started, and I got very sassy to Michael. The plot was, essentially, that I had been told that I was grounded to the house, or that I could get a spanking. I was wanting to go out with my friends, Maddy and Harley, and I had hoped to get out of the house unnoticed, but Michael caught me and reminded me that if I wanted to go, I was going to have to be punished first. I got way more attitude than I ever would to anyone in my real life, then stormed off to get the bathbrush. I very quickly found myself over Mike's knee, and then I felt the brush.
That thing just feels like little lightning strikes. It collided with me over and over, and once again, I lost all composure very, very quickly. I was struggling and wailing. Honestly, I was probably just screaming. It was the kind of crying out where my jaw hurt afterwards from me having held it open to make noise for so long. Absolutely zero dignity. But no tears.
I was in the middle of begging: "I'm sorry! I'm sorrrryyyyy! I'll be good! I promise!" et cetera when very suddenly, the scene came to an end. I was really confused at first, especially because I was basically woozy with adrenaline and endorphins and I literally couldn't think or walk straight right away. I thought that Michael had thought that I had done my safety signal. In fact, he had been keeping a careful eye on my skin and stopped it because he realized that it wasn't going to hold up to anymore battery: something I really, really appreciate.
Anyway, to give a stopping point to this long tale, I had a great day, I got spanked really hard and got to push my limits in a way that I wanted to, and I didn't lose a second time.
This just means that I have to do this again, doesn't it? Or I can just accept not losing as being almost as good as winning? I'm actually shaking my head at myself.
5) Alex Reynold's First Spanking Recreation at Spanked Sweeties
A lot of models shoot for Spanked Sweeties when they're relatively new to the spanking scene, but it took me a long time to get around to it. The set up of their site is that girls are interviewed about their spanking interests and experiences, with a focus on memories of times that they may have been spanked or witnessed spankings. They then do scenes that act our and recreate the spankings that they got or witnessed. Because I didn't really have any spanking memories until I became an adult, I had never really considered myself a candidate for this site. I was very happy when I found out from my friend The Camera Man who runs the site that they wanted to shoot with me for it, and that we could recreate my first consensual adult spanking experience for the video.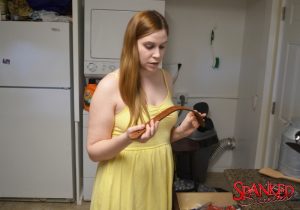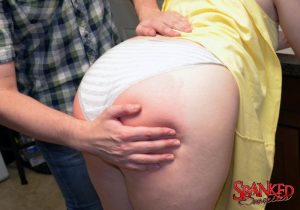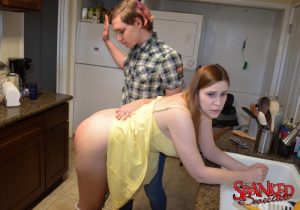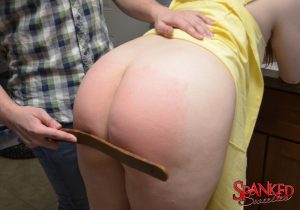 We shot this scene on the same day that I shot with Tai, and she basically played the role of SF, my first ever Top (once again, she was playing a male character). This story is definitely an *adaptation* of my first spanking story. In reality there were about six months between me finding an implement hidden in SF's drawer and my brining it up to him, and he spanked me OTK with his hand and I cried incredibly quickly (because that was like, the most emotional moment of my whole little life, finally getting my needs met for the first time). But those things aren't the kind of thing you can really recreate, especially with people who are just meeting each other for the first time. And this scene is very good at capturing the mixed emotions behind my first experiences: relief, mixed with nervousness, mixed with excitement, mixed with pain!
I've decided that this post is getting *very* long, and it isn't anywhere near being done yet, so I'm going to break it up into two sections. Stay tuned for part two!